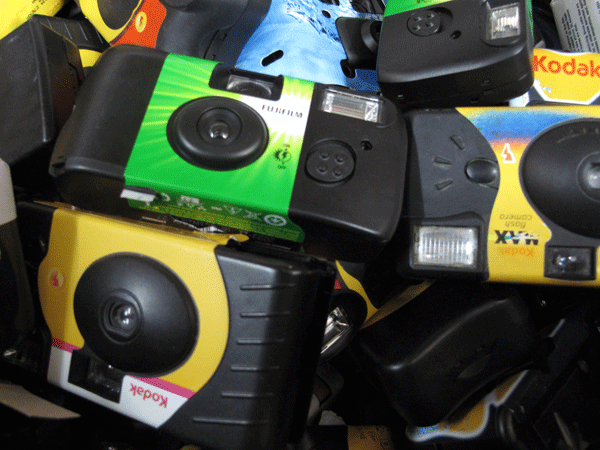 We Process Disposable Cameras
Most important tips when using a disposable camera
1. USE THE FLASH
By far the most common mistake we see with disposable cameras is that pictures are underexposed
When a shot is underexposed, it simply means the film was not exposed to enough light to make an impression on it.
If you are in any situation that is not in full, direct sunlight, you'll want to use the flash. This guarantees that the film is well exposed and the developed results are high quality.
TWO REMINDERS WHEN SHOOTING WITH FLASH:
1. The flash will only expose and object about 5-10 feet away. Don't use the flash if you're shooting a subject over 10 feet away in daylight.
2. Don't use the flash when shooting at a reflective surface such as a mirror, glass, or directly at the surface of a liquid. This will cause the picture to be overexposed and turn out all white.
2: YOUR SUBJECT SHOULD BE 5-10 FEET AWAY
The sharpest part of your disposable shot is 5-10 feet away, in the center of the frame. If it is important for you to get a clean picture of your subject, make sure they are in this sweet spot!
Knowing this, you'll want the subject of your shots to be about 5-10 feet away and in the center of the frame. Otherwise, your picture may turn out a little more blurry than you may be expecting.
Same goes for the flash, which we discussed in Tip #1. The flash range is also 5-10 feet which makes for clear, bright pictures.
BONUS TIP: CLEAN OFF THE DISPOSABLE CAMERA'S LENS
BONUS BONUS TIP: WATCH YOUR FINGERS
Your viewfinder (the square you look through) and your lens are not the same thing! Every so often we see a meaty, pink finger in a disposable camera picture. It always gets a few laughs but ultimately ruins the picture.